The *ing that should not be
Here is a fine example of a Japanese pun using (originally) English words that does not work in English: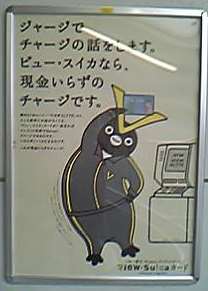 "ジャージでチャージの話をします," begins the Suica mascot penguin. Jaaji de chaaji no hanashi wo shimasu: "Wearing a tracksuit, I'm going to talk about [re]charg[ing your Suica card]." (Suica is a rechargable card that you can use to pay for train rides and buy goods at some establishments in or near train stations.)
The entire ad relies on lame pun on chaaji (charge) and jaaji ("Jersey", i.e. "tracksuit", in my English). What interests me is that "charge" and "jersey" aren't even close to pun material in English. The standard katakanafication process has wrought truly drastic changes here.
And just for kicks, here's a photo showcasing one of the cheap effects my new phone can overlay on images unexplained phenomena by a pair of mysterious standing stones in Omiya: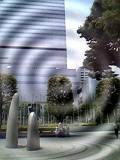 OOOOOOOOOO-WEEEEEEEEEEEEE-OOOOOOOOOOOOOOOO!!!!!!!!