Vending machine adventures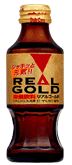 I just realised, or perhaps re-realised, today that there's a beverage in my school vending machine called REAL GOLD.
Seriously. Think about that. It's REAL GOLD. REAL GOLD! Isn't that either blatant false advertising, or an unbelievably toxic concoction that most definitely should not be offered to schoolchildren?
It does give me a kind of post-scarcity post-human utopian thrill to imagine a world in which heavy-metal-metabolising cyborgs can buy a can of real gold for just 90 Yen, though. No, I lied, it doesn't. They would at least have to be using New Yen or GalactoCredits for the idea to thrill me.
Last week, they added a new beverage to the machine's range. Unfortunately, they didn't think very hard about where to put the "new" badge, and it covers up part of the logo. Renaming the product: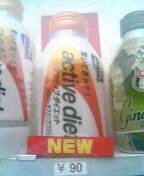 active die!