Final kanji cartoon post: foreigners
First, the answer to the question at the end of the last post: it's supposed to be 今 and 古, or "new/modern" and "old". Notice that the distinctively Japanese headgear is 古, old. This is a common theme in the 今/古 pictures:
(The hairstyles at the top are entirely intra-Japan; I just like the illustration, and the reminder that at one time one of these two unspeakably old-fashioned hairdos was considered "modern".)
Word fact: the modern replacement for the fundoshi (traditional Japanese jock strap) is a sarumata, or "monkey-crotch", western-style long underwear.
Here's a set of illustrations based on the characters 洋 (ocean → overseas) and 和 (Japanese):
The pair at the bottom left is "mythology"; the West gets the apple-serpent double whammy, while Japan gets a bird which I presume is supposed to be Yatagarasu, a name that means "eight-handspan bird" and was applied quite carelessly in Japanese mythology, so that we can't be sure that Japan's version of the pan-Asian sun bird was considered exactly the same bird as the one that led Emperor Jimmu to the promised land, etc.
Here's an example of using Western orthography to tackle Western themes: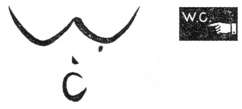 Yeah, OK, we'll let that one go.
And finally: outlanders go like this, while locals go like this.