Further adventures in wrongmilk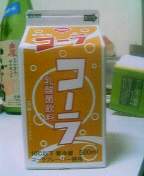 MilQ was weird, but at least it was based on something humans are supposed to drink (while infants, anyway). This is just completely unnatural: コーラ乳酸菌飲料, the Cola Lactic-Acid Bacilli Drink. Yes: cola-flavored milk.
Mind you, I used to have a friend who would mix cola and milk, saying that it was like a melted spider (or "float" if you're American). That wasn't so bad, actually, especially compared to his other favorite beverage, the "drink that goes fart". We won't even get into that. But this Cola Milk is far worse. It's much sweeter, and it has no carbonation to take the edge off that -- plus, unfortunately, my brain long ago became incapable uncarbonated cola drinks as anything other than suspiciously aged carbonated cola drinks.
And then there's the milkiness. But not quite enough of it. It never makes you think "milk". It makes you think "nightmarish, neverending portion of Yakult".
Oh man. Not recommended.