It's your town now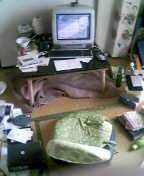 Shocking but true tales in ergonomics
Chapter 11 and a few final thoughts are up! Oh, so very up. And with six hours to spare!
I've included a picture of my workspace to the right there, so that you can see the depths a man sinks to when he spends a whole month translating Botchan. Stay in school, kids! (But not translating school.)
In other translated-novel news, David James Karashima's translation of KANEHARA Hitomi's 『蛇にピアス』 is out! We at No-sword offer Mr Karashima our sincerest envy congratulations, and respectfully beg for a job.