Eggs and eyeballs
The excellent Chrontendo, episode 2, on Devil World:
Also, the crosses have another use: you can breathe fire while holding one. This turns enemies into what appear to be a fried egg — or maybe a fried eyeball — which you then eat. Yeah, I said the game was kind of odd.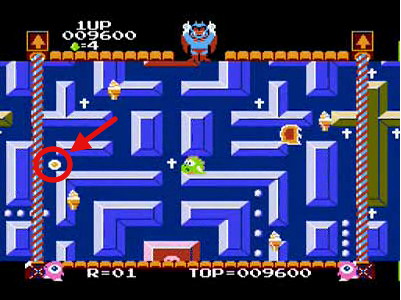 I can explain this.
The inhabitants of Devil World tend to rock the one-big-eye look. You can see a couple in the bottom left and right corners of the image above. Meanwhile, in Japanese, fried eggs are called medama-yaki — "cooked eyeballs." (All right, fine: "fried eyeballs".) An eyeball-monster turning into a fried egg is not just a semi-surreal visual gag, but rather a pun that relies on the audience knowing the Japanese words for what they are seeing. Which, since the game was never released internationally, actually worked out fine.
I can also explain why Pac-Man is called Pac-Man instead of Puck-Man, even though it derives from pakupaku (mouth flapping open and closed), which, confusingly, is closer to "puck puck" than "pack pack" in standard US English: because someone at Namco had the foresight to realize that a P can easily become an F if a sufficiently creative vandal is around.
Also, while we're at it, let's get this on the record: Pac-Man has nothing at all to do with any "Japanese folk hero [named] 'Paku' who was known for his appetite," as Wikipedia claims. No such folk hero exists. The closest thing in Japanese mythology would be the "Baku," as in tapir, a dream-eating monster from the mainland. So why not just edit Wikipedia? Because they seem to have a citation for this Paku thing, I have no citation for my position (Japanese folklorists generally preferring to catalogue beliefs and practices that do exist), and I don't feel like arguing with Wikipedia editors about Pac-Man.
One more thing: The title of Clu clu land is definitely about the "spinning" meaning of kurukuru, and nothing at all to do with the brain disease Kuru.