Uses of grain
Here is an 1893 advertisement for Temperance Magazine (禁酒雑誌):
The message I take away from this is "Look, we're not against grains. Grains are fine. But they have to be in bread form." Note the distinctly Japanese angel handing out the helpfully labelled loaf, and also the radiant bliss of the family who are about to eat it instead of wallowing in the squalor of intoxication: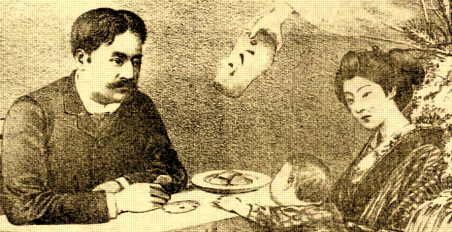 I don't think I've ever seen someone who looks like they need a drink more than that guy.
Intemperate googling reveals that the history of Temperance Magazine was brief and turbulent, in typical Meiji-publishing-world fashion:
November 1868 1888 (Meiji 21): Launched as Magazine of the Yokohama Temperance Society (横浜禁酒会雑誌)
January 1892 (Meiji 25): Publication ceased.
January 1893 (Meiji 26): Relaunched as Magazine of the Japan Temperance Society (日本禁酒会雑誌)
May 1893 (Meiji 26): Renamed Temperance Magazine (禁酒雑誌)
January 1894 (Meiji 27): Publication ceased again.
There's a little more information about the early history of temperance in Japan at the page for Waseda's other copy of this ad. The publisher of this magazine, the Japan Temperance Society (which, despite the name, was based in Yokohama — all those missionaries were a terrible influence) is actually still around. Sort of: it merged with a bunch of other local temperance societies to form the Japan Temperance Union.