Exogamy in Victorian Britainnia
Today we continue our ongoing journey into KANAGAKI Robun and UTAGAWA Yoshitora's Illustrated guide for children to the nations of the world. Specifically, these two pages at the beginning of the section on England: 1, 2.
Here's the raw text, best as I can transcribe it:
英吉利国部(いぎりすのぶ)

○このくには
ゑうらつぱ
しうにしのかたのうみのなかにある
ひとつのおほしまぐになりきたの
かたのちをすこしやといふそのしま
にはむかしよりぬしありてこれを
りやうせりしかるにいぎりすの女王
あんなの世にあたりてそのちをあはせ
又にしのかたにあるいろらんどゝいふしま
をもりやうぶんとしてくにの名を大ぶり
たにやといふそのくにのとちをわけて
十二かこくとなしこれに六十二の
だいめうをほうずそのみなみの
かたはからいすといへるうみの
けわしきやまをへだちておらんだ
ふらんすのりやうこくにむかひ
あふそのあひだへだたること
わづかに
十二三り
よき
かぜ
に▲

▲ほをあげて
ふねをはしらするときは
いちにちにしておうらい
するなりいにしへよりそのくにの王は
おとこなるときもあり女のこともあり
てさだまらずたうじは女王にて【つぎへ】

【つぎ】くらゐにつきたるのちぞくこくの
王のむすこをふたりむかへておつ
ととなす女王ちやうにのぞみ
てまつりごとをきく▲

▲ときはふたりのむこぎみも
又そのみぎとひだりに
ありしに▲△

▲△だい
めうの
めん/\
とじやう
する
ときは
女王の
まへに
ちか
づき
ひざ
ま
づき
て【次へ】
Of course, in the modern age we aren't used to reading crabbed hentaigana stuffed into the margins without even kanji cues to help us figure out what the hell it means. Thus, modern printed editions will usually overlay modern-ish orthography on the underlying period text, so that it looks something like this:
英吉利国の部

○この国は欧羅巴洲、西の方の海の中にある一つの大島国なり。北の方の地をスコシヤと言ふ。その島には昔より主ありてこれを領せり。しかるにイギリスの女王アンナの世に当たりてその地を合はせ、又西の方にあるイロランドと言ふ島をも領分として、国の名を大ブリタニヤと言ふ。その国の土地を分けて十二ヶ国となし、これに六十二の大名を封ず。その南の方はカライスと言へる海の険しき山を隔ちて、オランダ・フランスの両国に向かひ合ふ。その間隔たること、わづかに十二、三里。良き風に帆を上げて船を走らする時は一日にして往来するなり。古よりその国の王は男なる時もあり、女のこともありて定まらず。当時は女王にて位に即きたる後、属国の王の息子を二人迎へて夫となす。女王朝に臨みて政を聞く時は二人の婿君も又その右と左にありしに大名の面々登城する時は女王の前に近づき跪きて...
Some particularly meticulous series and editors figure out additional conventions to make their changes transparent. For example, I have seen a few books that put the original kana in furigana beside all the editor-supplied kanji. (This gets complicated when there are a lot of furigana in the original, too; IIRC these were put in little furigana brackets.)
Anyway, what does it all mean? Dig:
ENGLAND

This country is a large island nation in the sea to the west of Europe. Its northern part is called Scotia. This island had been held by rulers of its own since olden times, but in the reign of England's Queen Anna it was added to England's holdings, along with Ireland to the west, and the resultant country was named Great Brittania. This country's territory is divided into twelve counties [?], and these are controlled by sixty-two lords ["

daimyō

"]. In the south, it is separated from both Holland and France by a mountain called Calais against which rage treacherous seas [?], it faces both Holland and France. This separation is only 12 or 13

ri

[about 50 km]. When sails are raised on a good wind and ships sent out, they can cross and return in a single day. Since ancient times, this country has been ruled sometimes by a man, sometimes by a woman, with no fixed principle. At the moment it has a queen, who after ascending to the throne sent for a certain English vassal state's king's two sons, and made husbands of both. When the queen is at court attending to matters of state, her two husband-princes stand to her left and right, and each lord, when he appears at court, approaches the queen and kneels... (cont.)
We are very amused. Note that the illustration on the second page shows a polyandrous Queen Victoria flanked by her vassal-prince mates, as described in the text, "receiving tribute from the nobility" (英吉利の女王諸候の礼を請る図).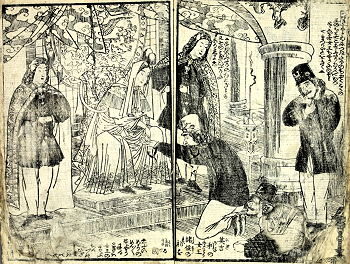 Special nerdy notes: The "Calais" in the text is either からいす /karaisu/ or おらいす /oraisu/; I figure the former because Calais has been spelt that way in the past in Japanese, and it's in the right general area at least. I'm also not 100% positive that it's the mountain that's supposed to be named Calais, and not the treacherous sea or even possibly the southern part of England itself.