Visions
Just noticed online: the full text (I think) of MORI Ōgai 森鴎外's 1889 collection of translated poetry, Omokage (於母影, "Images"), "considered the first poetic anthology in Japanese to successfully convey a sense of the aesthetic qualities of Western poetry."
The title of the work is a reference to a Man'yōshū poem by Kasa no Iratsume 笠女郎, quoted as an epigraph to Ōgai's collection:
陸奥のまのゝかや原とほけどもおもかげにして見ゆとふものを
The reedy fields of Mano/ in the deep north,/ though distant,/ in the mind's eye/ can be seen, they say, and yet...
("... I don't see you around so much these days, do I?")
Also no doubt relevant is omokage's status as a key word in Japanese poetics, meaning roughly "the visions/emotions/ideas evoked by a work."
What did Ōgai include? One easily recognizable entry is Ophelia's song ("オフエリヤの歌"). Here's the first verse, original vs Ōgai + romanization:
How should I your true loue know
From another man?
By his cockle hatte, and his staffe,
And his sandall shoone ...

いづれを君が恋人と
わきて知るべきすべやある
貝の冠とつく杖と
はける靴とぞしるしなる

Izure o kimi ga/ koibito to
Wakite shiru beki / sube ya aru
Kai no kamuri to/ tsuku tsue to
Hakeru kutsu to zo/ shirushi naru
Note that (a) Ōgai has given his translation an ABAB rhyme scheme, and (b) the 4/3 catalectic trochaic meter of the original neatly matches the comfortably Japanese 7/5 of the translation.
Ōgai's take on the incantation from Byron's Manfred is also quite well known, but not well understood, because it's in Chinese — kanshi 漢詩 — rather than Japanese. (Thus, it gets the transliterated-kanji title 曼弗列度, whereas his Japanese take on a different part of Manfred just gets katakanafied.)
When the moon is on the wave,
波上繊月光糾紛
And the glow-worm in the grass,......
蛍火明滅穿碧叢
宵暗燐碧生古墳
陽炬高下跳沢中
星墜如雨光疾於電
梟唱梟和狐客驚顫
残月斜射千壑陰
風死林木渾絶音
正是威力加汝時
霊咒無仮誰脱羈 [...]
Let me note that unlike the Shakespeare translation above, Ōgai supplies those first two lines of English himself. He even marks them up for meter: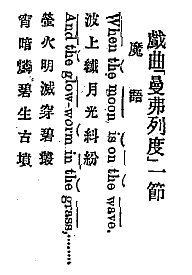 Why? Because he didn't want anyone to overlook the fact that his translation into Chinese precisely preserves syllable count, rhyme scheme, and even stress pattern, via transmutation of the latter into a ping/ze 平仄 tonal scheme instead.
As YOSHIKAWA Kōjirō 吉川幸次郎 says in Kanbun no hanashi 漢文の話 ("Rappin' about kanbun"), this is yet another illustration of just how serious the Japanese literati used to be about Chinese. Readers who were reliant on the traditional kanbun transformation to formal Japanese (for example, turning the first line into 波上の纎月、光糾紛 Hajō no sengetsu, hikari kyūfun) would not be able to appreciate the structural features that Ōgai worked to preserve. Even readers who were comfortable reading in Chinese-grammar order would miss out on the rhyme scheme unless they knew the proper Chinese pronunciation of the words too: 紛/墳 rhymes in Japanese too, but 叢/中 isn't even close.
In other words, the full effect of this translation can only be appreciated by an audience who can read Chinese as Chinese. That was Ōgai's audience.