Mune-kyun
Noticed in Bic Camera the other day: Elecom's range of web camera/headset/mic peripherals. Recommended usage patterns are conveyed via goofy headlines and cartoons, like this one:
Wai-wai kaiwa, for raucous conversations involving many people at once (wai-wai is mimetic). Here we clearly have city-living family members talking to their daikon-farming (grand)parents out in the country.
Or this one:
Terebi minagara tsūwa, "Talk on the phone while watching TV"—for those times when your boss decides to blow off some steam right when your favorite comedy duo takes the stage.
Or this one, my favorite: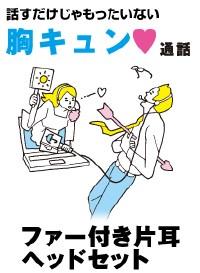 Mune-kyun ♥ tsūwa. Tsūwa means "phone conversation," as above, and mune-kyun is that pleasantly tight sensation (kyun, more mimesis) you get in your chest (mune) when you see something with irresistible appeal.
What makes this one-eared mic headset so appealing? That would be the pink pom-pom styling on the mic. Close-up picture here courtesy of an apparently satisfied customer.
(Am I crazy, by the way, or is the woman in the cartoon teaching that guy a language?)