Chokotto marin
Fashion magazine ViVi's main headline this month:
"ちょこっとマリン"がイチバン可愛い!
"Chokotto marin" ga ichiban kawaii!
"Kinda marine" is cute to the max!
That is to say, a woman whose outfit draws subtle inspiration from those who ply the open sea (or maybe just the bits around Shōnan) will be more fashionable than one whose outfit does not.
And here is ViVi's cover this month: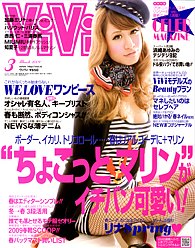 I know it's too small to see properly, so here's the lowdown:
Salty-dog captain's hat with gold rope highlight
Jauntily-knotted scarf with wave pattern and tricolor trim
Navy-and-white horizontally striped dress with big golden anchor embroidered across torso
Navy cardigan
Fishnet stockings
Maybe that last one is reaching. Still, the overall effect is not "chokotto marin." It's "bitten by a radioactive French sailor from the 1920s." (Which is actually kind of hot.)