Persimmintermission
Persimmons are crazy in season where I live, that is to say the south end of eastern Japan, so I thought I'd share this sagashie (searching-picture) by, I believe, TAKEHISA Yumeji (竹久夢二):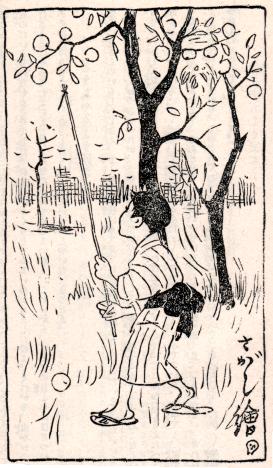 "This is a bad child," sez the caption, "And so, thinking that no-one is around, he is stealing someone else's persimmons. But someone is in fact watching him, as all good children should know."
I am sure there is a paper at least and more likely a thesis in illustration-based moral instruction for pre-war Japanese children. As far as I can tell, it was invariably based on the "someone could be watching" hypothesis rather than the "it's wrong" axiom.
Or perhaps the explanation is too simple: Japan lacks the Judeo-Christian God who is always watching and, in a manger two thousand years ago, always in tears at your wickedness.
(Yes. Yours.)