The English Diary
The other day I found a copy of the 1910 book Eibun nikki no hanashi (英文日記の話, "The English Diary"), which was written to help Japanese folks keep diaries in English as practice using the language. ("That the writing of the diary must be simple is the usual rule, but [...] the use of difficult 'Johnsonian words' in certain situations is not objectionable.")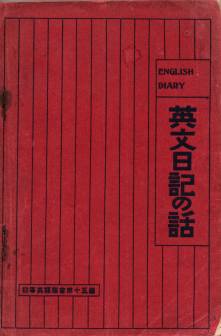 Of course the main attraction is the selection of sample diary entries. Many different styles are explored. First up comes the straightforward and picturesque:
HARUO'S DIARY

Sunday, Jan. 1. Fine.

New Year's Day dawns bright and brilliant. Every house is trimmed with branches of pine and bamboo, and flags are flying everywhere. The scene of the streets is gay and peaceful. After taking "Zonimochi" I said "Omedeto" to parents and then went to school to attend the New Year's Ceremony. The Imperial Rescript was read and then the principal made a speech for the occasion, but it was so tedious that I could not help yawning. Spent the whole afternoon in flying kites with friends. Brother-in-law came and gave me two yen as a present. That made my purse very heavy.
Next we meet the stoic Umeo, who translates the -kun used for classmates as "Mr."
UMEO'S DIARY

Wednesday, Feb. 8. Cloudy.

Got up at 5. It was a cold morning and the water in the buckets was found frozen. It was hard for us to take a cold bath as usual. Had words with Mr. Fujino about the Japanese translation in the English class. Though our teacher stood by him yet my opinion seemed right. In the evening reviewed to-day's lesson. Went to bed at 10.
In March, we attend Hinako's psychedelic tea party:
HINAKO'S DIARY

Friday, Mar. 3. Fine.

It being the Girl's Festival Day to-day, I was very busy assisting mamma in cooking "Gochiso" for dolls. Went to Momo-chan's and looked at her dolls. They are all pretty. In the evening invited many friends and gave a great feast. Momo-chan tasted just a spoonful of shirozake and crimsoned to the roots of her hair. "You are like a Kintoki," laughed my mamma heartily. How happy we were! Beautiful dolls! Crimson blankets! Gold lacquered furniture! All were reflected by the brilliantly lighted candles and made us dazzling. I wish the Festival would come more often.
In May, we meet the Godfather:
A BUSINESSMAN'S DIARY

Friday, May 5. Fine.

A fire occurred at Nishiki-cho, Kanda and fifty houses were reduced to ashes. My two rented houses were also burned down. But as the houses were covered by an insurance of ten thousand yen, the net loss I sustained is two thousand yen. Presented each tenant with a sum of money as a present of sympathy.
And then in August, the book blindsides us with incredible tragedy:
TSUKIO'S DIARY

Thursday, Aug. 4. Rained in the evening.

Called at Mr. Kanzaki's in the afternoon and had a pleasant chat with him about English. As we are bosom friends the time sped in our chat without our being aware of it. Startled at the clock striking nine I took leave of him. The sky was pitchdark and rain began to fall. This gloomy aspect suddenly reminded me of my beloved sister, which sent a chill through me. No sooner had I entered the porch than brother rushed out and said, with tears in his eyes, "Brother, sister is at death's door!" Rushed I into sister's bed-room and found the doctor with a syringe in his hand feeling her pulse. I approached her pillow and asked her, "How do you feel?" "I feel like dying!" she faintly said. "Nonsense," I cried, "cheer up!" The injection apparently took effect, and she fell into a slumber. "When I am cured...." she murmured in a dream. At this mother buried her face in her sleeves. As for me it was hard to suppress my tears. Silence reigned in the room. Sometimes she awoke and tried to speak, but her spirits were too low to do so. When she was on the point of breathing her last she opened her eyes wide and said, "Brother! Thank you for your kindness. Mother! I, I........" With these words she left this World of Misery for Heaven. It was 3 a.m. on the 5th. She was seventeen years of age...... For the rest I have no no courage to describe....
I particularly admire that he had the strength of will to note the weather at the beginning of the entry.