Unbelievable! Kawabata is moving!
My latest article at Néojaponisme: Kawabata, Mishima & the Nobel Prize. I recommend it to anyone interested in Kawabata, Mishima, the Nobel Prize, gossip about ISHIHARA Shintarō, and/or the J2E translation scene in postwar Tokyo. Extra No-sword-exclusive related content follows: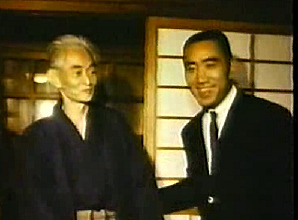 In the 1965 interview that Chuckles links to, Mishima is quoted thus:

No dictionary contains all the Kanji there are. The first and second proofs often come back with a mark called a geta, because it looks like the imprint of a geta, the Japanese wooden clog, in place of a character that the printer has had to order specially made. He always has it for the third proof.

That mark is the geta symbol 〓, which is probably most familiar this century as the symbol that cellphones use in place of characters they can't display. (I recall seeing a lot of these in cellphone mail from emoticon-happy friends on different networks—this was before the phone companies began their glaciation towards a hypothetical standard.)

"Sensei, what kind of a thing is happiness?" -- KAWABATA Yasunari's Asagumo, in coming-attraction form. "The purest coming-of-age girl novel in the history of Japanese literature!" From a mid-90s program called Bungaku to iu koto (文學ト云フ事), which apparently gave this treatment to a different classic of Japanese letters every week. The music is bafflingly inappropriate; contrive therefore to ignore it.