Nor all the drowsie Syrrups of the world
Another Heppoko scan, here deconstructing the celebrated Japanese tradition of gravure.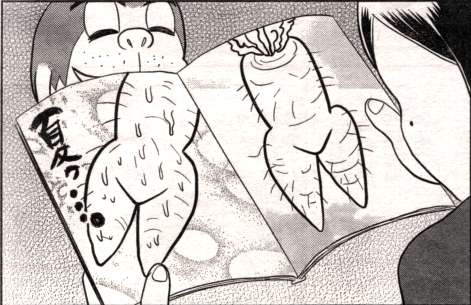 "Summer..." There actually is such a thing as a natsuimo, "summer imo" -- it's what English speakers call a regular old "potato". But that picture looks more like a mandrake to me.
One more semiotic point I would like to make is that the potato in the magazine is naked, and it matters. We know this because Akiko, the teenage girl straight-man character, flies into a rage at the suggestion that she be photographed this way. It seems unlikely that she would get so mad about an innocent Shōnen Magazine-style, even-AIBU-Saki's-manager-lets-her-do-it feature. The beads of potato-sweat also pornography the proceedings.
Heppoko himself, of course, only ever wears clothes for the sake of cheap visual gags, and no-one finds it remarkable.