Benten and the Dragon
I hate it when lazy writers fall back on the cliche of likening anything Japanese and unusual to a video game or cartoon, but even I have to admit that Enoshima from above is a fusion of the organic and the artificial straight out of Akira.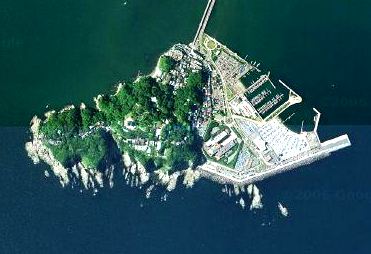 Forested and craggy at one end, planed and augmented at the other, with secret escalators that go right through its rocky heart and emerge at its peak.
Which is my late-night way of leading up to Robert A. Juhl's The Goddess, the Dragon and the Island: A Study of the Enoshima Engi (History of Enoshima Temple): Part 1.
The core of this study is my translation of the first segment of the Enoshima Engi (江嶋縁起), the first in a western language. The Enoshima Engi is a history of the temples/shrines on Enoshima Island. [...] Written in Chinese by the learned Buddhist monk Kokei (皇慶) in 1047 AD, this segment of the Enoshima Engi relates an apparently fabulous story of a destructive five-headed dragon that lived in a large, swampy lake along the course of a local river in the period prior to the sixth century AD. The dragon plagued the inhabitants of the low coastal hills in the vicinity of Enoshima, causing floods and swallowing children.

[...] This study assembles evidence and/or documentation to support the view that [...] [the] dragon represented the violent local river and its four major tributaries as seen from the hills where the ancient inhabitants lived.
A great resource, and not at all stingy with the Chinese and Japanese sources.