Ra

-less love on Enoshima

My new apartment is within walking distance of Enoshima, and I walked there last weekend. There is a shrine on the island where couples can buy a small, tacky piece of wood, write their names on it, and hang it carefully with thousands of others to ensure that they will stay coupled.

(This is really sort of a protection racket, because an older tradition says that couples who visit Enoshima together will be driven apart by Benten's jealousy.)

Shintonomics aside, the result is a linguistic corpus as charming as it is valuable. Check out these two (names censored):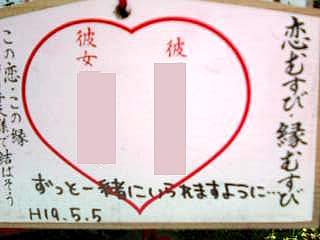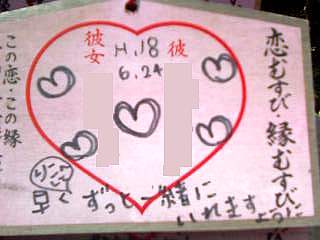 The first one reads ずっと一緒にいられますように, zutto issho ni iraremasu yō ni, which roughly translates as "May we always be together".
The second one expresses the same wish, but spells it differently: ずっと一緒にいれますように, zutto issho ni iremasu yō ni.
This is called "ra-nuki", ra-dropping. To summarize it briefly, while carefully dodging the hermetic mysteries of the Japanese "passive" and "potential" constructions, vowel-stem Japanese verbs are "supposed" to form both the passive and potential stem by adding -rare:
| | |
| --- | --- |
| tabe.ru | eat |
| tabe.rare.ru | be able to eat (be edible), be eaten |
Consonant-stem verbs, on the other hand, distinguish the two:
| | |
| --- | --- |
| yom.u | read |
| yom.e.ru | be able to read (be readable) |
| yom.are.ru | be read |
Ra-nuki has the effect of bringing the vowel-stem verbs in line with the consonant-stem ones by using -e- for the potential (dropping the ra) but retaining the full -rare- for the passive form, like so:
| | |
| --- | --- |
| tabe.ru | eat |
| tabe.re.ru | be able to eat (be edible) |
| tabe.rare.ru | be eaten |
Ra-nuki offers two advantages: it distinguishes the the two forms from each other, and it normalizes the pattern to (r)e/(r)are for all verbs. The old system, on the other hand, is traditional, which means that a certain proportion of the populace will never deem any deviation from it acceptable, particularly in written Japanese -- even if they use ra-nuki occasionally in casual speech without realizing it, which many if not most of them probably do.
But, as the photos above show (and here I reveal that they are using the potential form of i.ru, technically translating as "be able to be together"), no-one can stop language evolution.
Two final things:
The

nuki

in "ra-

nuki

" is also used in the Japanese equivalent of "Hold the onion/anchovies/etc.": "

X-nuki de

...".
I cheated. The second photo doesn't say exactly the same thing; I ignored the words before the part I was interested in. In full, it would probably be better translated as, "May he get divorced soon so that we can always be together". (I am assuming that it is the man who needs to get divorced, because the message was clearly written by the woman.)