The color of passion, 120 km off Tokyo
Women who are exotic but still Japanese have been a common theme since the earliest days of postcardery in Japan, but this is the most overheated example I've found yet: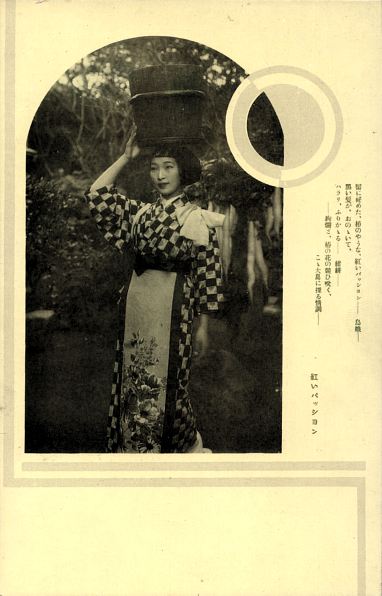 靨に秘めた、椿のやうな、紅いパッション—— 島娘——
黒い髪が、おのゝいて、
ハラリ、ふりかゝる—— 紺絣——
   ——絢爛と、椿の花の競ひ咲く、
          こゝ大島に探る情調——
                       紅いパッション
Hiding in her dimples a camellia-scarlet passion-- daughter of the islands--
Locks of black hair gone astray,
Gently flowing--

kongasuri

--
   --Brilliantly outblooming the camellia,
          A feeling to discover here, on Ōshima--
                       Scarlet passion
This dress and appearance of the model here -- the blue-and-white clothes, the headgear, even the basket -- constitute what's known as an anko-sugata. (Sugata is standard Japanese for "form, appearance", and anko is Izu Ōshima dialect for "young lady", probably related to SJ ane*.) This anko-sugata is still a recognizable symbol of Ōshima today.
For example, about two-thirds of the way down this page you can see Ōshima's current Camellia Queen TAKEZAWA Yuika glad-handing folks in Chiba on behalf of her home town. And, of course, there are the anko-ningyō, anko dolls.
* Compare Okinawan
angwā
with basically the same meaning. Hypothesis: living in an island paradise makes Japonic language communities unwilling to pronounce the vowel /e/.
(Back)