Yet in the shadows lurks the villainous Wet-Wipe Courtier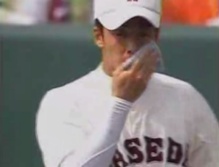 Finally, a solution to the imperial succession problem that everyone can get behind: pass the reins to the Handkerchief Prince (ハンカチ王子):
The same type of towel handkerchief used by Yuki Saito, a pitcher for Waseda Jitsugyo High School baseball team, which recently won the national high school baseball summer championship, is selling for prices in excess of 5,000 yen--more than 10 times its original price--on Internet auction sites.

Saito was dubbed the "handkerchief prince" by female fans who admired the dashing style in which he used a handkerchief from his pocket to wipe his face while on the mound during the game at Koshien Stadium in Hyogo Prefecture this month.
Judge the dashingocity of his Blue Handkerchief Style for yourself at YouTube.
(For the record, I don't find the "Handkerchief Prince" media frenzy any more or less ridiculous than, say, the media frenzy surrounding the Olympics. Running in a straight line for ten seconds, wiping yourself with a cloth; potato, potahto. Similarly, a bunch of people wanting to buy a handkerchief because of its association with the sports idol of the moment doesn't really seem any different to me from, say, the average Nike campaign.)