Nuthin but a 字 thang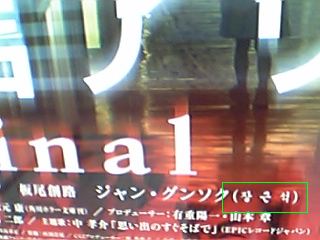 For some reason, the posters for Chakushin Ari: Final have star Jang Keunsuk's name in both katakana and Hangul. Why?
The "Korean Boom" is more or less over, and although the door is now wedged open for Korean actors to have starring (if not headlining) roles in Japanese dramas and movies, I think the number of people who grew up in Japan and can read Hangul remains pretty small.
On the other hand, Korean people who moved here as adults can obviously read Hangul, but it'd be very surprising if they couldn't also read katakana. The subset of immigrants who can't read katakana, can read Hangul, and would be likely to go see a trashy horror movie can't be very large or rich, surely.
This leaves three explanations that I can think of:
The designers just thought it looked cool to have an uncommon writing system on the poster.
The producers wanted to emphasise the internationalness of the cast in an immediately eye-catching way.
Jang himself required it in his contract.
Thoughts?