This one has crying
So, at one point in the story our hero Kankurou sends his sweetheart Chizuru a letter. Her brother Shousuke, with whom Kankurou has a kind of friendly rivalry, discovers this and teases her until she lets him read it, but only if he promises not to laugh. Which leads to this exchange: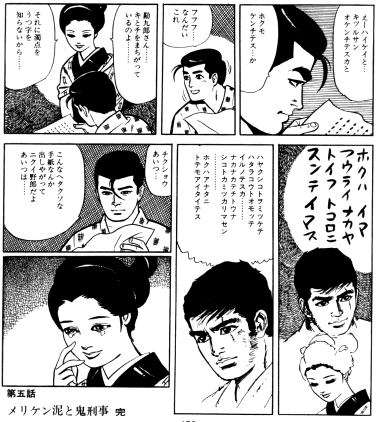 SHOUSUKE: えー ハイケイと…キツルサンオケンチテスカと…ホクモケンチテス…か。ふふ…なんだいこれ
(Let's see... "DEAR KIZURU, ARE YOU KENCHI? I AM KENCHI TOO..." Heh, what the heck is this?)
CHIZURU: 勘九郎さん……キとチをまちがっているのよ……それに濁点をうつ字をしらないから……
(Kankurou mixes up the characters for "chi" and "ki"... and he doesn't know how to use dakuten [those little dots that indicate the voiced version of a character... those two mistakes combined turn genki (ゲンキ) into kenchi (ケンチ)])
KANKUROU'S LETTER: ホクハ イマ フウライナカヤ トイフ トコロニ スンデイマス  ハヤクシコトヲミツケテ ハタラコウトオモッテイルノテスカ……ナカナカテチトウナ シコトカミツカリマセン…… ホクハアナタ二 トテモアイタイテス
("I AM LIVING IN A PLACE CALLED FUURAI NAGAYA NOW. I WANT TO FIND A JOB AND START WORKING SOON, BUT IT'S DIFFICULT TO FIND WORK THAT SUITS ME. I WANT TO SEE YOU VERY MUCH.")
SHOUSUKE: チクショウあいつ…こんなヘタクソな手紙なんか出しやがって ニクイ野郎だよ あいつは
(He's got a lot of nerve, sending you a crappy letter like this... what a jerk.)
But he isn't serious, you can see it in his face, and meanwhile Chizuru is already tearing up. I was moved myself. You don't often see period adventure stories going out of their way to acknowledge how much literacy must have meant to people, back before first- and even second-world societies started taking it for granted.
As I understand it, Japan was more literate than most feudal societies even before the Meiji Restoration began and the Ministry of Education was founded, but that literacy was still mostly restricted to the upper classes. You can kind of see here, dimly, what it must have been like during the transitional period, when even itinerant, unemployed judo guys could write a letter expressing their feelings -- and reasonably expect its recipient to be able to read it -- without any go-betweens or scribes or priests, for the first time in history.
(For those who came in late: all this is from Adventures of Judoman by Baron Yoshimoto.)