Sensitivity, publishing house-style
Maybe I've mentioned this before, but I really appreciate the method that Japanese publishers use to festoon their books with promotional hype. They don't print it on the cover: they put it on the obi (or, more formally, obigami (帯紙), "sash paper"), which you can then remove as soon as you get home (and use as a bookmark). This means that cover designers can work in peace without having to sandwich in "Winner of the Bunglefloot Flap award" or "'Magnificent!' -- Similar Author, Similar Book" or, worst of all, those goddamned embossed gold medallion things.
It also means that publishers have the ability to launch a new promotion or promotional phase every so often, simply by slapping a sub-branded obi ("Summer Reading 2005!") on a bunch of already-existing titles, and persuading bookstores to make a visually arresting display out of it. Sometimes, though, the books they choose don't really go with the promotional branding: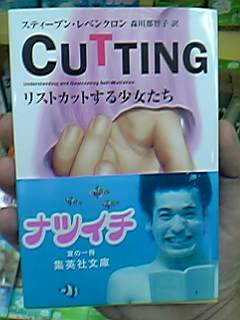 "Hey! I'm a goofy guy having summer fun, reading underwater! ... about, uh, self-mutilation among young girls. Yeah... non-fiction. So, anyone wanna play frisbee?"