The first 150 pages of JJ magazine's May issue, rendered into English text at two words per page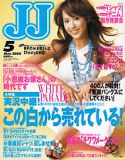 Cover: sandals. Hide pores, princess face. First white girl appears. Diorsnow whitener, number two. Dior fragrance. Girly bags. Ayu on a motorbike. Sandal catfight! Model's selections: Mie, dancing, "slightly ethnic"; Yumi likes wrinkled shirts; for Rina, character t-shirts; Miki almost bares navel; Mariko shows shoulder skin. Louis Vuitton's cherry bags -- no! Pinky! Some competition. More Pinky. More Mie. More Pinky. Sports styles. Contacts for "chihuahua eyes". Clear impression.
Index begins. Another ad. Index continues. People wearing white on the streets, then models. Now Emily's "white style". "Ethnic" t-shirt: "move bitch". Riiza: celeb. Lesser stars. Next: casual versus simple. Readers wearing white, white.
"Beauties: it's their skin." "Skin-baring idol" tops for students and OLs. Cute phone! Look devilish. No, conservative. Sparkle! Gather! Enter dorky younger man. GIANT SCARY EYE ATTACK. LIPS! STOP IT LANCOME! White clothing every day. God almighty, more white. Baby pink: "classy-girly". Eurotrash on perfume bottle.
Bags (white, of course.) More bags, some shoes. A fan. Faded photo. "Spot breaker". Blue eyes. Tokyo: full of white. Kobe: full of white. Imperfect people can wear white too! Even pants. More beauty through lucidity.
Chanel bags, CD backdrop. Weird goo on face. "'C' is for cupcake." "Become an It Girl." Charlotte Ronson: interviewed! Hotdog. Branded t-shirts: Provence. Hawhy? Izu Girl. Popeye. Rainbow. Dior punch!
Car ad. Hey, there's Liv Tyler. Ooh! Cat on scooter! Slightly naughty princesses: heels. Night partying. "Paparazzi"? Please. Eating on a couch. School shots. "Serious dating." Is that Salma Hayek? Pink shoes, white shift. Older JJ cover shots. How to attract guys: favorite brands, Yada Akiko, shoulder flash, skin, mermaid, accessories, scents, "me-long" hair.
A "spring of light". Woah, hot. Bags. Hot again: Duras. Next: camisoles. Polka dots. Lace. Ribbons. With cardigans. With jackets. Deodorant ad, all pink. Family plans for phones. Kobe princess.