Evolution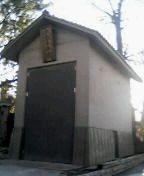 Most decent-sized Shinto shrines in Japan have a big shed or two like this, to store the giant wheeled floats between festivals. I can't prove it, but I'm sure there's some connection between this fact and the preponderance in Japanese science fiction of giant robots that burst out of silos, hidden or otherwise, in the middle of major cities.
300 Tang Poems, complete with dubious 1920 translations. That's a lot of Tang poems. Number 255:
玉階怨
玉階生白露, 夜久侵羅襪。
卻下水晶簾, 玲瓏望秋月。

A SIGH FROM A STAIRCASE OF JADE
Her jade-white staircase is cold with dew;
Her silk soles are wet, she lingered there so long....
Behind her closed casement, why is she still waiting,
Watching through its crystal pane the glow of the autumn moon?
I think she forgot her keys.
In other news, here's an ad for Australia's first pop-up toaster.