You'll never get into a book by Raymond Briggs that way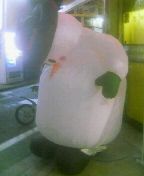 So I bet many of you saw the sleeping salarymen page -- but did you realise that in Japan, even the inflatable snowmen are overworked? Poor guy, he's asleep on his... base.
Although sometimes when I look at this photo it seems like he's checking his zipper.
And: Robot, South Korea claims world's smartest. I've long thought that doing the thinking in a separate box would be the best idea, at least until computers get a lot smaller. Let's all enjoy its chilling final words:
"I will see you again next time when I will have become wiser."