If it's on a jumper, it must be true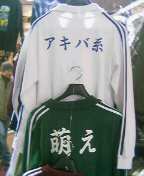 Submitted for your approval: two sweatshirts with slogans derived from the otaku, and in particular 2channel, subculture.
The top one says アキバ系, akiba-kei. Akiba is short for Akihabara (秋葉原), the place in Tokyo which has the highest concentration of dealers in electronics- and IT-related goods, plus a secondary pleasure-focused market in manga, anime, cosplay cafe service, etc., that arose to service all the geeks while they were buying their essential equipment. And kei means "style" or "type". So a person wearing this would be announcing that they are the kind of person who hangs out in Akihabara -- i.e. an otaku, and also probably prone to ponytails, headbands, backpacks, and overweightness, as befits the Akiba-kei stereotype.
The bottom jumper says 萌え, moe. Moe refers to affectionate, perhaps romantic feelings towards non-real females, like cartoon characters and game heroines. (I don't see why it couldn't also refer to males, but I've never heard a woman use that way.) Clearly, this is something that otaku would be more likely to feel than others, which is why this is right next to the Akiba-kei sweatshirt.